Howdy WTFSEOers. We're back in the sessions today and live blogging our live blog of @LisaBarone as she live blogs #pubcon sessions.
We caught up with Lisa lurking in the back of the session prior to the one she is planning on blogging about. She seems to be having a mini panic attack about not being able to get to a seat with a plug. We saved one for her, but she has no idea what she's in store for.
Before we get started, Lisa what are your thoughts?
"meh meh meow growl grrr wah wah wah whine"
Thanks Lisa.
Up first is Lisa blogging about Anne Kennedy being up first. Anne's just starting her talk and Lisa is already at 130 words – meanwhile we're only at 64. Quite impressive – however there are lots of red squiggles on her screen and her html code for links definitely won't pass a w3c validation test.
212 words now, and another laugh/growl and (successful) attempt to hit me.
OOH she's taking a drink of water now.
Anne just mentioned a formula and Lisa managed to capture it all while looking at our screen and attempting to cover hers.
asfaewfoianwer <-- Lisa just typed that. Making it the first time ever she has live blogged on our live blog about her live blogging at #pubcon. 329 words now, and a 2nd sip of water. This means it took her 212 words before her first drink, but only 117 for her second. At this rate Lisa will be running to the rest room before Merry comes up to speak. Her fingers are now river dancing across the keyboard, flying hither and thither, typically hitting the right key in sequence as she copies down the pertinent points that Anne's making. Briefly she pauses, as her eyes glance up towards the screen. Her fingers stop. She has everything from this slide. Eagerly, almost pensively she waits. When will the slide change, and new information appear… the tension is palpable. 485 words, and like a greyhound when the hare dashes past, she's off again, furiously typing into her well worn laptop. And as the smoke settles from her 2005 era made for windows XP laptop (seriously, will somebody buy Lisa a new laptop? This one is actually thicker than the table supporting it.) we can see it's time for another drink. Hitting 665 words, she pauses to check her phone, rolling her eyes with disdain when she realizes it's a notification of the @WTFSEO tweet previewing this post. At 733 words, it's time for a drink as the moderator refers to this website as "an insipid failure", we'll take it, it's a mention.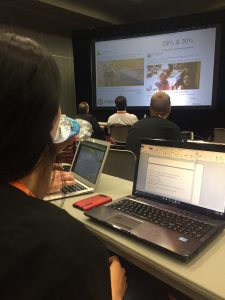 Now Merry Morud starts talking and Lisa's eyes focus on the podium, fingers poised, hovering over the keys. Merry announces that she's wearing her big girl heels and can't wait to take them off. Lisa is wearing cowboy boots and those around her are desperately hoping she keeps them on.
As we lean in to get a better view of Lisa's screen she tells us we need a hobby. Does she mean another one? "seriously, you two need girlfriends" she glowers, while refusing to introduce us to her friends.
There's a musical sound coming from her commodore 64 style laptop now as her fingers click across the giant keys. The typing stops only when photographers stand in front of Lisa's view of the screen – only brief enough for a quick scowl before the clickity clack begins anew.
The clicks have briefly stopped now, as our editors pass the laptop across Lisa taking turns. Keeping pace with her is no easy task.
1020 words now and the water bottle has just tipped over. Luckily, it has a squirt top so the 30lb laptop was NOT harmed.
For those wondering, the water bottle is now half empty. Or half full – depending on your point of view.
we're also at 563 words now to her 1030. 1030 seems to be the limit as she's just slouched back in her chair and opened up her phone – only to see more WTFSEO tweets and mentions and a text from her coworker laughing about it all. A loud sigh escapes her lips along with series of sharp looks towards the WTFSEO team.
Lisa's TI99/4A era laptop is now creaking under the pressure, with the 64k memory is struggling to keep up with her furiously flying fingers… a nail goes flying from one of her fingers, almost impaling an attendee, Lisa doesn't even slow down as she approaches the 1,100 word landmark. Quickly she saves her work so far to the external tape drive, so as not to lose her work, as occasionally happens in Corel WordPerfect (the newest word processing software that her ancient machine will run).
As she reaches for another key, her computer's CD drive flies open revealing the latest taylor swift CD. She laughingly slams it shut and says "hey don't type that.". Seriously, we're not even joking about this laptop: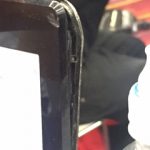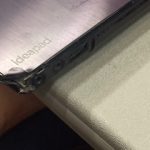 It's now time for the QA, and for Lisa to furiously edit her enormous amount of typos – which would go much easier if the laptop had fully functioning keys. The water bottle is now 1/3 full, and dented/crushed almost beyond recognition.
We asked Lisa if she could edit our post too. Her response: a frown and a muttering of something we can't repeat here for fear of offending our church going audience.
That's it for us today guys. We're going to get out of this conference room before Lisa is done editing and manages to catch up with us. Stay tuned tonight as we hang out near all the private SEO conversations* at the breeze bar and tweet everything we hear with an OH: tag.
*if there aren't any interesting ones, we'll just do what we normally do and make them up.