Accelerated Mobile Pages (aka AMP) became a hot trend in 2016 thanks to Google support as well as a level of SEO expertise not seen since the launch of RankBrain.
However, we've learned (don't ask us how, we just know….. We're SEOs) AMP's heyday is about to end. Like a dog seeing a squirrel, it looks like Google will soon be throwing it's full support behind another mobile  initiative called Ultimate Mobile Pages (UMP).
While on the surface it may seem like Google is getting everyone all whipped up in a frenzy about some hot trend only to quickly and quietly ditch it, there appear to be some very valid reasons for this shift.  Here's what we know so far and why we believe AMP is on the way out:
NO ID NEEDED
UMP doesn't need some identifier on the SERP (that frankly no one who isn't an SEO has a fucking clue what it means). It's "Ultimate" for a reason. The user will just know.
SPEED: UMP Beats AMP hands down
UMP is even faster. Whereas AMP will load in 951 ms, UMP is a true instant load. It loads so fast, that it can't even be measured. Thanks to an advanced artificial intelligence (AI) algorithm and just doing whatever the hell they want with all the data trails you leave online, Google knows  exactly what to show you before you begin the query.  The actual query – just a formality.
But wait, there's more….
Not only does UMP have AMP beat on speed, it also allows marketers to add in amazing features like full page pop up and autoplay ads (via Google paid advertising only for now ….and likely forever). Additional helpful features will be if pesky consumer privacy and anti-trust laws can can either be relaxed or skirted via some not yet found loophole.
Widespread SEO Expertise Already
Even though UMP is brand new and WTFSEO is bringing you the exclusive on its arrival, many SEO's appear to be experts already on it's usage. Given that no code documentation has been released, nor has there been any testing and validation, this is quite impressive and speaks highly to the competence and integrity of this industry.
This time – A Ranking Boost
Whereas AMP didn't officially provide a ranking boost from Google which left SEOs disappointed, UMP comes through bigtime. Ultimate means "Ultimate". Google wisely realized that if they wanted support from SEO (which they always do, right), they had to give them what they really care about – a ranking boost.
HTTPS……..Whatever
AMP requires all content including ads to be https hosted, but let's be honest….That's a total pain in the ass for the small business owner who has no clue what any of that technobabble even means. So, UMP doesn't require https.
Less Industry Conflict
The electrical industry was none too pleased with the acronym "AMP" as they've had "amps" as a a standard in their field since the late 1800's. They felt disrespected by Google and SEO in general. At least with "UMP", there's no conflict with any other industry, right?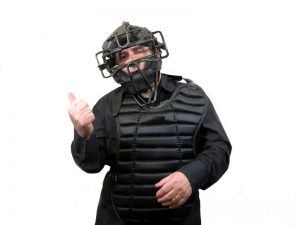 Millennial and Generation Z Friendly
With UMP, there are no winners. There are no losers. All mobile pages can be great. All mobile pages can achieve a top ranking. It's the SEO equivalent of participation trophies for everyone.
There you have it! Remember that you read it here first. Forget about AMP and get ready for UMP. A year from now you'll be glad you did!