The end of digital marketing conference season is almost here. That can mean only one thing: it's almost time for next year's digital marketing conference season! How exciting!
Did you follow all the great advice on how to be an amazeballs speaker? Did that advice help transform you into one of the highest rated presenters of all time at the last WTFSEO Conference?
If not, I know why!
It's all about the slides. Two in particular will make your presentations at least 10x more awesome.
You see, you really only need two slides – anything beyond these two slides is just a way to fill up 20 or so minutes while attendees soak in your unadulterated awesomeness. Why else do you think there are so many Star Wars, unicorn, and dead body found on page 2 of Google jokes?
You want to grab everyone's attention. By the time you're done, you'll have inspired them so much that business cards will be raining down on you like you're the biggest, sexiest, most influential search marketing rockstar in the world.
Are you ready?
Slide 1: The 'Logo' Slide
Ah, the almighty Logo Slide. Why do you need this slide? Just look at this?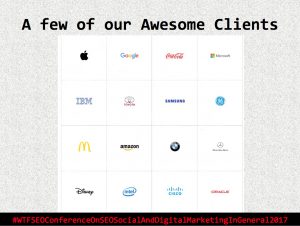 How freaking impressive is that?
Who are your clients?
Um, kind of EVERYONE.
Google? Yep. Microsoft? You betcha. Yahoo? C'mon, man, I have some standards.
Apple? Coca-Cola? Toyota? YES! YES! YES!
And the best part? Thanks to the miracle of NDAs, nobody will ever know the truth!
Don't have Disney as a client? This slide says otherwise!
Just put whoever you want on there! We won't tell!
There are some who might say this is just a PhotoShopped screenshot of a page with random brand logos. But you know what you can tell them? That their microaggressive accusation just triggered you and you need to find a safe space like, right now.
Slide 2: The 'Featured In' Slide
Oh but you don't just have awesome clients. You are also the most forward-looking and most insightful and incisive thought-leader EVER! You're so brilliant and important than when Google needs to know something, they ask YOU.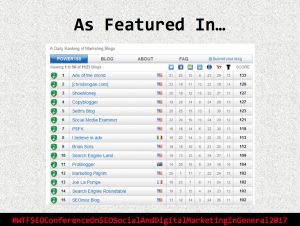 Where do you write?
Um, kind of EVERYWHERE.
Search Engine Land? Yep. SEOMoz Blog? Uh-huh! Seth's Blog? Um… Sure! Why not? Seth is my dude and we're super tight!
And the best part? If anybody bothers to check, you can just claim that the link is broken (nobody will bother).
There are some who might say this is just a random screenshot of the long defunct AdAge Power 150. But guess what? Those people won't be in your sessions – it will be a bunch of newbs who don't know any better.
Final Perfunctory Sentences
What do you think – are these two slides enough to turn you into an SEO god? Share your thoughts in the comments.